With all your data ready to use all you need now is a neat report.
Create a new custom report.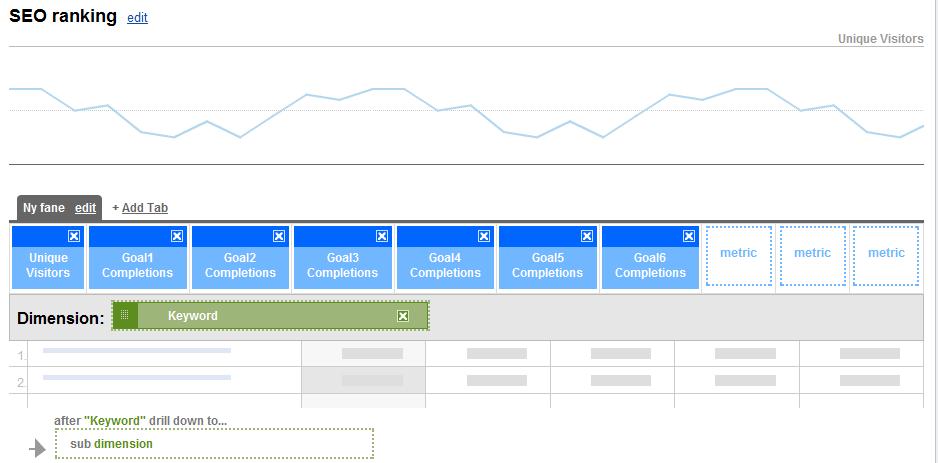 The new report has to be built using the following combination:
Dimension = Keyword
Data field 1 = Unique Visitors
Data field 2 = Goal1 Completions
Data field 3 = Goal2 Completions
Data field 4 = Goal3 Completions
Data field 5 = Goal4 Completions
Data field 6 = Goal5 Completions
Data field 7 = Goal6 Completions
The result is that you now have the ultimate SEO report, where you at a glance can monitor your keywords and their rankings.
In order to trim your report I suggest that you filter out the keyword "(not set)" in the bottom of the report by typing it in the text field and selecting Excluding.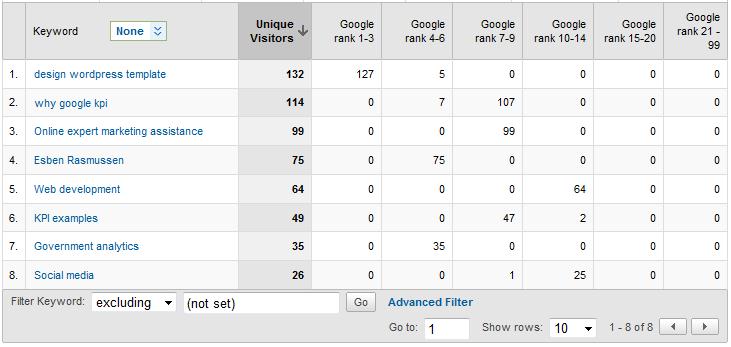 When you have gathered enough data, you should consider supplementing the report with a custom alert so that you can be warned when the Google rank (SERP) for an important keyword drops.
Here is a screenshot example of how such a custom alert might be set up for a web shop that deals in TV's.

Finally I would like to thank SEOmoz for their guide on SEO monitoring using custom variables which inspired this alternative approach.
I hope you can use this guide to create the ultimate SEO report in Google Analytics and I would love to hear from you if you have comments or feedback.
16 kommentarer til "Create the ultimate SEO report in Google Analytics"